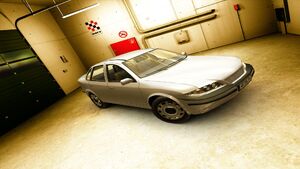 The Spectran is a class E car in Crashday. The vehicle has a front-wheel-drive drivetrain and a 5-speed transmission. As Crashday's starter car, the Spectran is the slowest car in game. It's one of the easiest cars to drive due to its forgiving nature. When upgraded, it can put up a good fight against cars of its class. Armour and wrecking power are moderate, but not sufficient for class B. The same goes for its top speed as it cannot go faster than 226 km/h. Still, it's a good choice for technical tracks with not many straights, thanks to its excellent handling.
The Spectran is based on the Opel Vectra B, with minor changes, such as tail lights from the Mazda 6 GG1.
Trivia
Unlike most other vehicles, the Spectran is a 4-door vehicle, along with the Wrecker.
The Spectran had an unused vinyl called "Polizei", which has been made available in Redline Edition.
The Spectran initially didn't have an original name and was simply known as "Police Vehicle".
The Spectran was originally based on Opel Vectra A.
Modification
Gallery